Now, I know what you're thinking...they can't be that good. You are wrong my friend, very wrong. They are not only great, they are WONDERFUL!!!! I happened upon a recipe on one of my favorite Gluten Free Blogs: Gluten Free Girl and Chef. I love these people, but love these cookies even more. And they are super easy. I changed up the flour that I used, so I didn't follow her recipe exactly. If you do not carry 50 different kinds of GF Flour and want to use All Purpose Gluten Free Flour, or you want to use Wheat Flour (I shudder), they will turn out just fine.


Here is your list of ingredients: Recipe to follow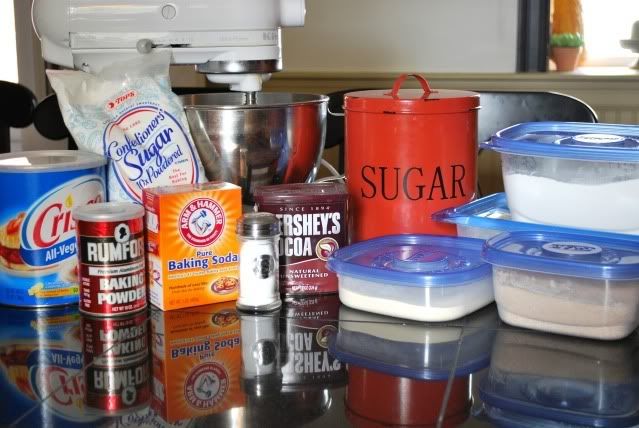 For all of you who just don't "get" Celiacs and think "How hard can it be to go Gluten Free?" This is a mixture of different flours that I use for just one recipe. Next time you get out your All Purpose Flour from the grocery store to make a cake, think of us digging out all of our Gladware containers of Rice Flour, Tapioca Flour, Teff Flour, Almond Flour, need I go on?

Uggggghhhhh! Crisco? OMG YUCK!!! I have never even used Crisco out of fear. Crisco scares me. But now, it is my best friend. A fattening one, but a good one.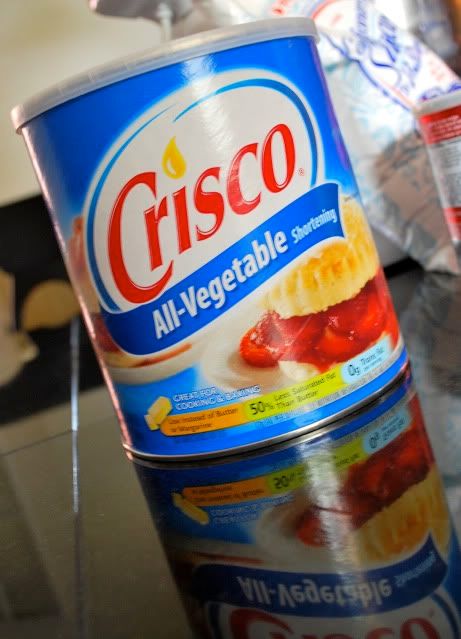 Mix together all of your dry ingredients

Add your globs of butter, mix well, then add your egg

I was looking at this mixer bowl thinking that this was never going to work. It was so dry. Just give it a few minutes, it will work. It works really well. And just when you are about to give up on your mixer and add more butter. DONT!!! It will mix into a wonderful dough ball. Then you use a heaping tsp. and form dough balls to flatten out on your baking sheet.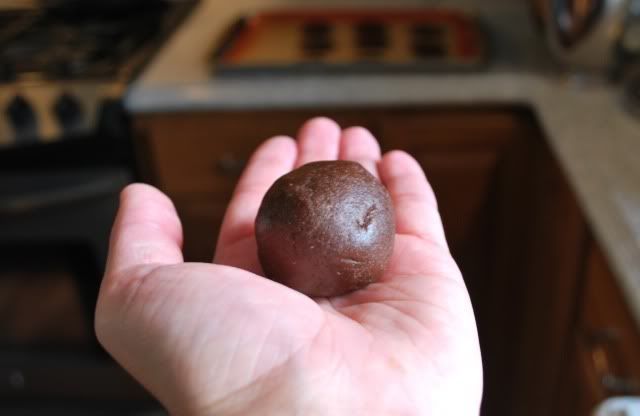 Put 'em in the oven to bake and start on your filling:


This grosses me out! Crisco and butter? Why oh Why?

After adding confectioner's sugar...I now know why. HEAVEN!!!

And the finished product puts smiles on everyones faces!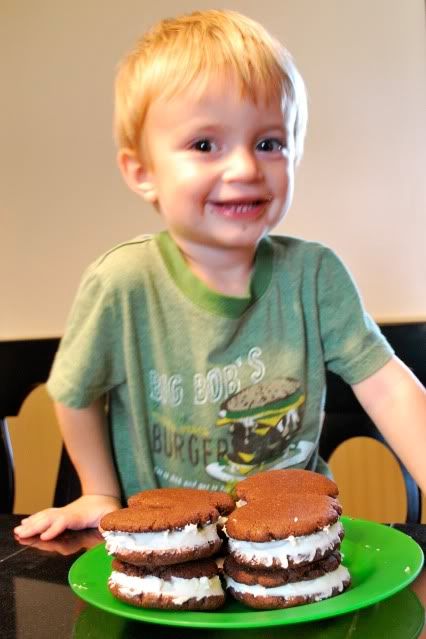 Here's The Recipe: Thanks to Gluten Free Girl and Chef-and notes by me

For the cookies:
3/4c sweet rice flour (I did not have Sweet Rice Flour, so I used 3/4c All Purpose GF Flour)
1/2c white rice flour
1/4c teff flour
1/2 teaspoon xanthan gum
1/2 cup unsweetened cocoa powder
1 teaspoon baking soda
1 teaspoon baking powder
1/4 teaspoon salt
1 cup sugar
1 stick plus 2 tablespoons room-temperature, unsalted butter
1 large egg

For the creamy filling:
1/2 stick room-temperature, unsalted butter (After tasting the finished product I decided to
4 tablespoons vegetable shortening add 1 more Tbs of shortening and 1/2 c more of
2 cups sifted confectioners' sugar confectioner's sugar, but you can do it to taste)
2 teaspoons vanilla extract

Preparing to bake. Preheat the oven to 375°. Line a baking sheet with parchment paper or a Silpat.

Making the cookie dough. Put the sweet rice flour, white rice flour, and teff flour in the bowl of a stand mixer. Using a whisk, stir the flours together to combine and aerate them. Add the xanthan gum, cocoa powder, baking soda, baking powder, salt, and sugar. Turn the mixer on and let everything combine in motion. While the mixer is running on low speed, add large pieces of the butter until they are all incorporated. Add the egg and mix well. (At this point, you might think the dough will be too dry. Trust. Keep mixing. It will come together.)

Baking the cookies. Scoop a rounded teaspoon of batter (literally. scoop just more than a teaspoon's worth) and form a ball. Gently, flatten the dough in the palm of your hand. After you have flattened, smooth the edges of the cookie dough disk to make it evenly rounded. Place the dough disks onto the prepared baking sheet, about 2 inches apart. (These will not spread, but you do not want them to touch each other.)

Bake on the middle rack of the oven for 5 minutes, then turn the baking sheet 180 degrees. Bake until the cookies are crisp on the edges with just a touch of softness in the center, about 5 more minutes. Take the cookies out of the oven. After a few moments, transfer the cookies to a cooling rack. Allow them to cool completely.

Repeat with the rest of the dough.

Making the creamy filling. Put the butter and vegetable shortening into the bowl of the stand mixer. (Clean the cookie dough out first!) Whip them up together, then add the sugar and vanilla extract. Beat the filling on high until it is fluffy frosting, about 5 minutes. (Be sure to turn off the stand mixer and scrape down the sides occasionally.)

Assembling the cookies. If you have a pastry bag with a 1/2-inch round tip, you can pipe tiny dots of filling onto a cookie. We couldn't find ours, so we used a teaspoon measure and our fingers to spread the blob of creamy filling toward the edges but not entirely there. Gently, press the second cookie down onto the filling and watch the filling reach the edges.

Continue until all the cookies are little chocolate sandwiches with a creamy filling. Oreos.

Makes 25 to 30 Oreos.
(or 12 if you are like me and want an oreo the size of my hand)