I originally got this idea and recipe (with gluten) from the April Edition of Southern Living Magazine. Yes, I know I live in the North now...but the South cooks better. You are going to love this recipe. Complete with pictures per request from my SIL Amanda to strive to be the Pioneer Woman.

Start with these ingredients:


I used Strawberries and Raspberries for a mixture of flavor to top the cheesecake.



Chop fruit and top with 2 tbsp Powdered Sugar and mix well. Place in refrigerator to set.



Grate zest from 1 lime or 1 tsp of Zest, then squeeze the juice of 1 lime or 1 tbsp of lime juice

No comments about the lack of a microplane grater!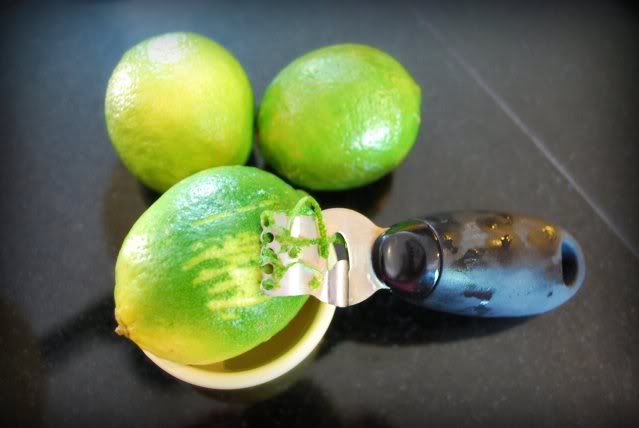 Stir together Cheesecake Filling, Lime Zest, Lime Juice, and 2 tbsp. Powdered Sugar. Mix well.


Serve immediately by scooping Cheesecake Mixture into a bowl, top with crumbled GF Cookies (I used Jo-Sef Gluten Free Vanilla Graham Crackers and loved them). Top with your favorite topping or berries.

This photo is from the Southern Living Website, due to lack of brains to take the photo of the finished product. I have a long way to go to catch up with the Pioneer Woman.


Gluten-Free Free-Form Cheesecake


Ingredients
2 cups fresh strawberries, chopped

2 cups fresh raspberries, cut in half


4 tablespoons powdered sugar, divided

1 1/2 cups ready-to-eat cheesecake filling

1 teaspoon lime zest

1 tablespoon lime juice

6 crisp gourmet cookies, crumbled (Jo-Sef GF Vanilla Grahams)


Garnishes: crisp gourmet cookies, lime slices
Preparation
1. Stir together strawberries, raspberries and 2 Tbsp. powdered sugar.
2. Stir together cheesecake filling, lime zest, lime juice, and remaining 2 Tbsp. powdered sugar.
3. Spoon cheesecake mixture into 6 (6-oz.) glasses or ramekins. Sprinkle with crumbled cookies. Top with strawberries. Garnish, if desired. Serve immediately.
Note: For testing purposes only, we used Philadelphia Ready-To-Eat Cheesecake Filling and Jos-Sef Vanilla GF cookies.
Southern Living, APRIL 2009-with a few slight GF Changes by (ME)
Courtney Morris